Leadership and culture change management expert Yetunde Hofmann writes exclusively for Business Daily
The key to attracting, and retaining, talent within a company is recognising their contribution and treating them as human beings rather than "disposable assets". 
That is the advice of leadership and culture change management expert Yetunde Hofmann, a client of book PR agency Palamedes.
Writing exclusively for Business Daily, Hofmann says that the 'war for talent' within the corporate sector has evolved and now requires "more than presenting a package of competitive pay and benefits".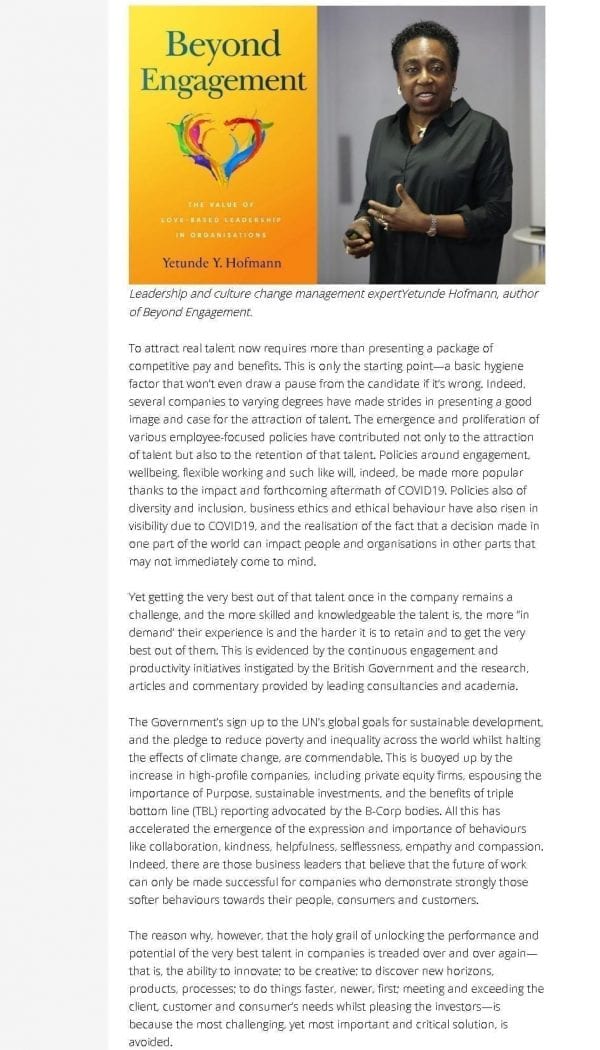 Specifically, it now requires companies to instill a genuine recognition of the contribution that professionals make to a company as a central corporate tenet, and for leaders to enshrine an "unconditional acceptance" of their people.
According to Hofmann, this radical, new business model – known as Love-Based Leadership – cultivates a culture where the most in-demand professionals will perform at "the highest level possible" while remaining "motivated, engaged and loyal".
The author of new business guide Beyond Engagement – The Value of Love-Based Leadership in Organisations says that a loving corporate environment will become even more valued by talent due to the impact of Covid-19, where diversity and inclusion, business ethics and ethical behaviour have risen in visibility.
Palamedes PR attracts authors and publishers with its unique range of guaranteed book PR services. If you would love to secure great media exposure then contact us today.