Leadership and culture change management expert Yetunde Hofmann says UK companies must move away from an ethos of putting profits before people
British companies must find a "new normal" that puts the welfare of their employees first, once the coronavirus lockdown is lifted.
A failure to do so will harm talent acquisition and retainment across sectors in the long-term, stifling post-virus financial recovery and future growth, according to leadership and culture change management expert Yetunde Hofmann.
Hofmann, the managing director of international leadership and change consultancy Synchrony Development Consulting, says that the current crisis has exposed the "shameless, greed-orientated" character that underpins the majority of firms' interactions with employees.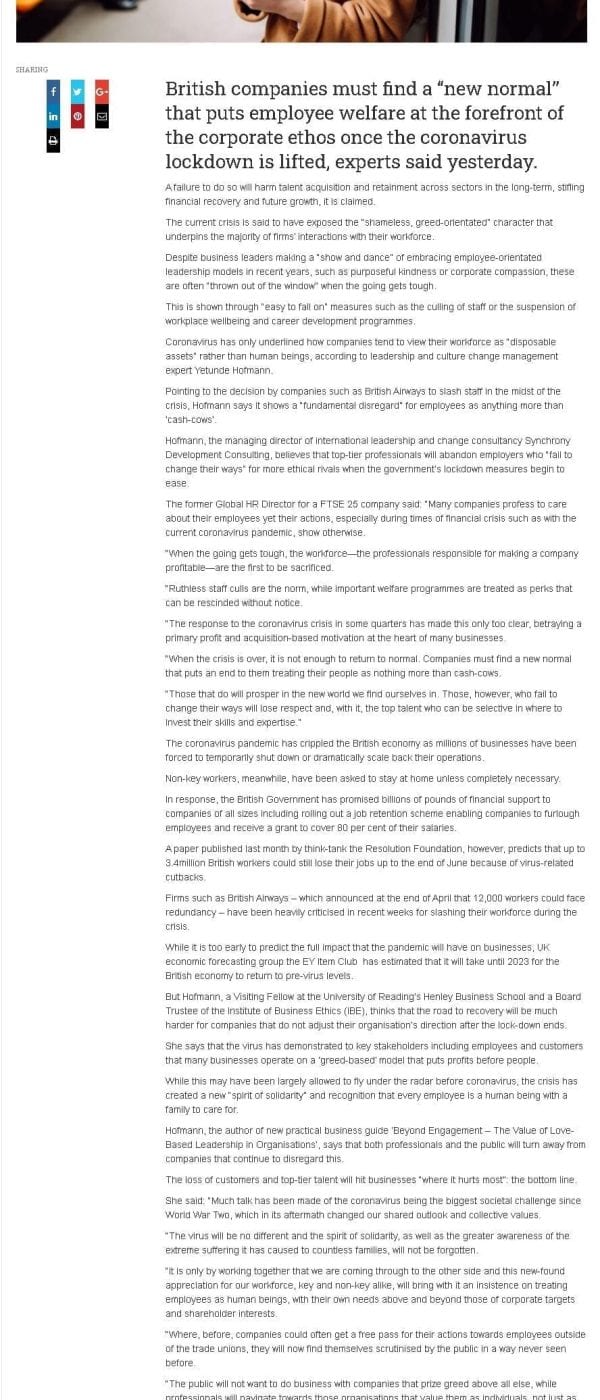 Despite business leaders making a "show and dance" of embracing employee-orientated leadership models in recent years, these are often "thrown out of the window" when the going gets tough.
This is shown through "easy to fall on" measures such as the culling of staff or the suspension of workplace wellbeing and career development programmes.
Pointing to the decision by companies such as British Airways to slash staff in the midst of the current coronavirus crisis, Hofmann-author of of new business guide 'Beyond Engagement – The Value of Love-Based Leadership in Organisations'-says it shows a "fundamental disregard" for employees as anything more than 'cash-cows'.
As a result, she believes that top-tier professionals will abandon employers who "fail to change their ways" for more ethical rivals when the government's lockdown measures begin to ease.
You can read the full news story on Business Matters. 
Palamedes PR provides a wide range guaranteed book PR services, including business news stories. You can contact us to discuss a new campaign.