International journalist Yasin Kakande writes for The Voice about his concerns that Uganda's president may be exploiting coronavirus
International journalist, TED fellow and immigration campaigner Yasin Kakande fears that Uganda's president may be exploiting the current coronavirus pandemic for his own ends.
In an exclusive article for The Voice – the UK's most popular newspaper for the British African-Caribbean community – Kakande investigates what has happened to a $491.5 million loan made to President Yoweri K. Museveni from the International Monetary Fund (IMF).
The funds were issued to help Uganda stop the spread of Covid-19 but Kakande, a client of book PR agency Palamedes, says that Ugandans are being kept in the dark about how the government plans to use the money.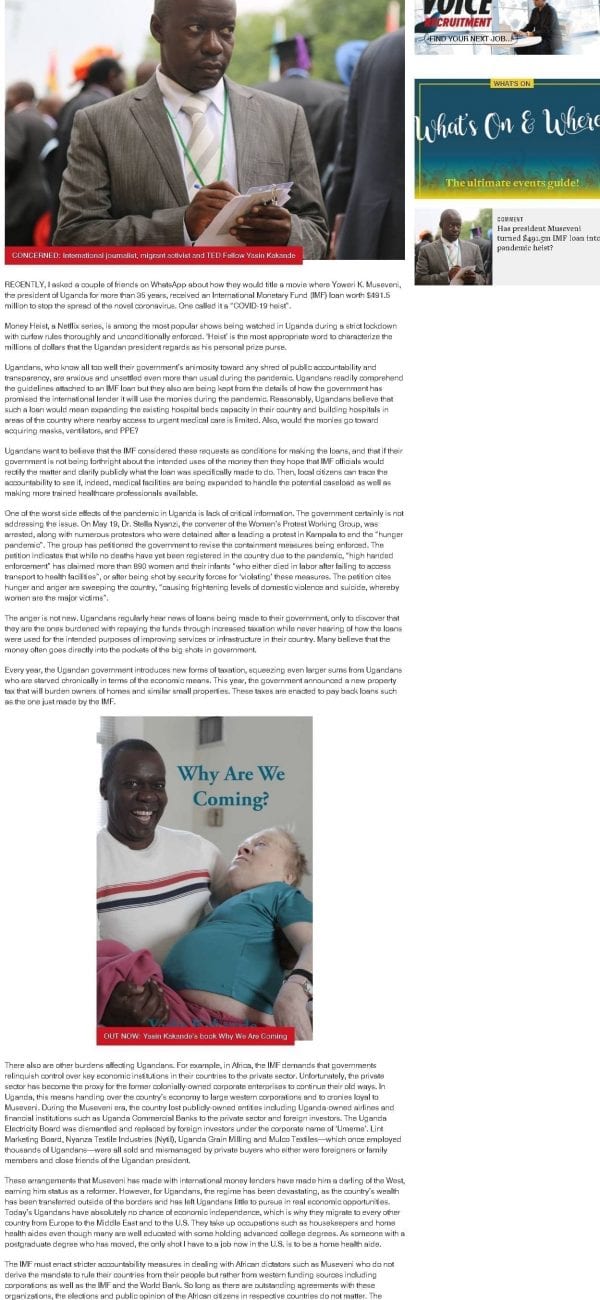 Kakande, who was born in Uganda but who had to flee to the U.S. after incurring the anger of the government with his investigate reports into corruption, says that "one of the worst side effects of the pandemic in Uganda is lack of critical information".
Describing the situation as a possible "heist", he suspects that Ugandan citizens' worries that the funds may have gone "into the pockets of the big shots in government" may never be answered.
He believes, however, that they will be "the ones burdened with repaying the loan through increased taxation" and that the true price of the arrangement with the IMF could be ceding further economic control of the country to Western powers.
Kakande, who writes for international media organisations including Thomson Reuters, is the author of Why We Are Coming, which reveals why Africans leave their homelands to live in the West.
Palamedes PR provides authors with a range of guaranteed book PR services to reach their audiences and promote their books. Contact our team today to find out more.