Dr Sonja Falck has live TV debate over whether insults such as 'nerd' and 'geek' should be criminalised under hate speech law
Academic and author Dr Sonja Falck, a client of book PR agency Palamedes, has taken part in a live national TV debate about whether terms such as 'nerd' and 'geek' should criminalised under hate speech legislation.
The University of East London Lecturer was invited on to ITV's flagship breakfast show, Good Morning Britain, where she expressed her view that such insults should be categorised in the same way as homophobic, religious and racial slurs.
Joining her in the debate was teacher and former University Challenge contestant Bobby Seagull, who argued that such a move would trivialise other forms of hate crime.
Dr Sonja Falck discusses her book, Extreme Intelligence (Routledge) and her research about 'nerds' and 'geeks' on Good Morning Britain. Watch the full interview above.
Dr Falck's stance is based on eight years of research on the subject of high IQ discrimination, including speaking with dozens of high-ability  children, parents and adults about their own experiences.
She recently published her findings in Extreme Intelligence, a sweeping study of discrimination against those with especially high IQs.
Non-discrimination against those with very high IQ is also supported by high IQ society Mensa and Potential Plus UK, the national association for young people with high learning potential.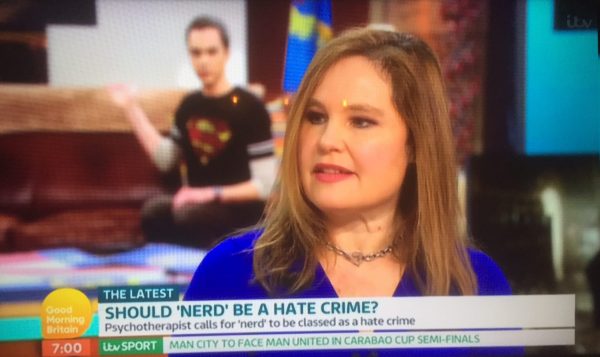 Dr Falck was invited on to Good Morning Britain after the agency generated significant national exposure about her call for societal change within the British media, including placements in the Daily Telegraph, Daily Mail, Metro and Daily Star.
While her views haven proven divisive, they have sparked an important public debate about how society's attitudes towards the high IQ community.
The TV debate has, in itself, generated further national news coverage, including the Daily Express. 
Palamedes PR is top of the class when it comes to securing national media exposure for authors and publishers. We offer a range of guaranteed book PR services. Feel free to contact us to discuss a new campaign.