The Voice features an exclusive extract from international journalist Yasin Kakande's new book, Why We Are Coming
The Voice has featured an exclusive extract from the latest book by international journalist, TED fellow and immigration campaigner Yasin Kakande.
Entitled 'Museveni's ascent to power on a tide of covert western influence', it explores how the British Government, among other Western Powers, were instrumental in bringing Uganda's president to power. 
In particular, the piece from Why We Are Coming reveals how western powers provided weapons to Museveni's rebel group so that he could challenge then President Milton Obote's Marxist-leaning administration.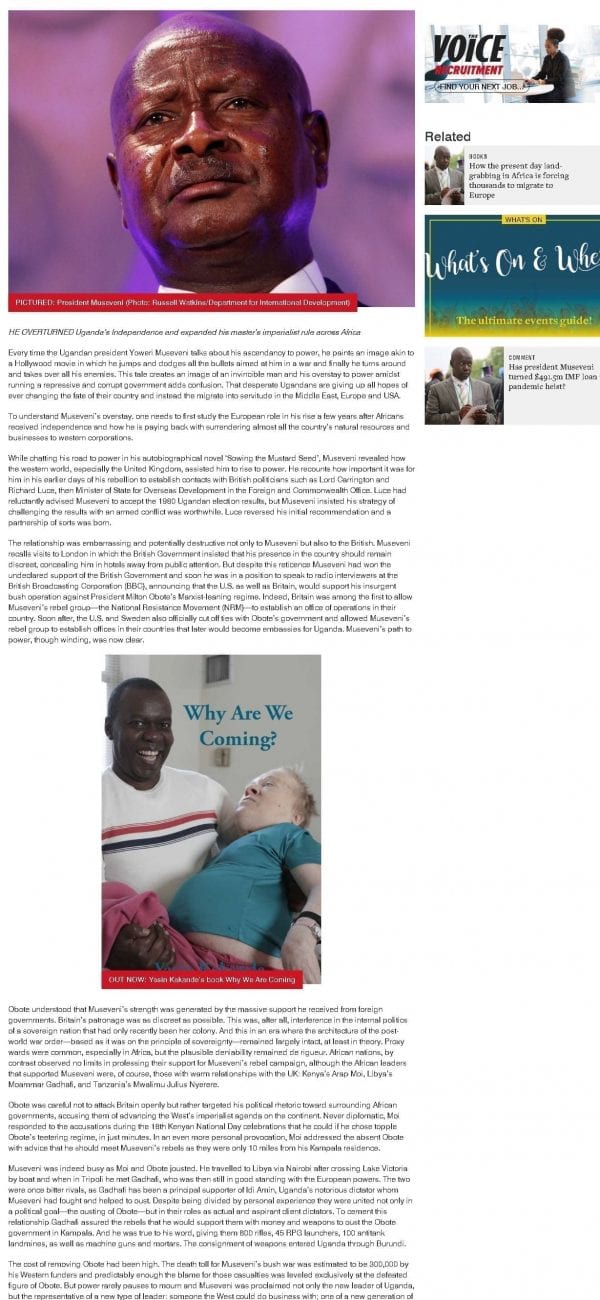 Kakande, a client of book PR agency Palamedes who writes for international media organisations including Thomson Reuters, says in the piece that Museveni was supported in his power struggle – which cost 300,000 lives – by Western nations because his "preeminent objective was to prove Uganda's reliability as a security partner to the West in East and Central Africa."
He continues: "Wherever there was a conflict in the region the West did not have to enter directly, Museveni was available to send in Uganda troops to support the side most amenable to Western interests, and acted as a principal negotiator on behalf of the U.S. or European nation involved."
The extract serves as a companion article by Kakande on The Voice – the UK's most popular newspaper for the British African-Caribbean community – in which he expresses his fears that Museveni may be exploiting the current coronavirus pandemic for his own political ends.
Palamedes PR offers a range of guaranteed book PR services for authors and publishers. To find out more about how we can be of assistance, contact us.