Celebrity chef Gurpareet Bains creates the world's healthiest snack - the Chikitsa Crumble
An Anglo-Indian nutritionist whose superfood cookbooks are a hit with the A-list has created the world's healthiest snack – a cookie that contains all five of our recommended portions of fruit and vegetables a day.
Palamedes PR client Gurpareet Bains, whose celebrity fans include Gwyneth Paltrow, Goldie Hawn and Chris Evans, spent three months developing the "Chikitsa Crumble" during the coronavirus lockdown.
The blueberry-flavoured treats contain the nutritional equivalent of five whole bags of leafy greens and can help to lower cholesterol, manage Type 2 diabetes and boost heart health.
They also pack nearly half the daily recommended intake of fibre and contain up to 50 per cent fewer calories than 'diet-friendly' and 'health' snacks currently on the market.
Bains, whose spice-infused, antioxidising recipes are used by celebrities including Dermot O'Leary, Sanjeev Bhaskar, Meera Syal, Theo Paphitis, Simon Mayo, Dame Vivienne Westwood and the Duke and Duchess of Gloucester, said the cookies are designed to boost consumption of vitamins, minerals and fibre in a low-calorie form of inexpensive fast food.
Each one contains five full portions of our recommended daily intake of fruit and vegetables.
It is understood to be the first time that anyone has managed to incorporate all five into a single bitesize snack.
Bains, who is credited with previously creating the 'world's healthiest meal' and the 'world's healthiest Christmas dinner', formulated the cookie for his "veg-hating" teenage nieces and nephews.
But he is now producing more than 100 cookies per week for other family and friends who dislike fruit and vegetables or who struggle to consume the recommended minimum daily intake through normal meals.
Bains, who was named Chef of the Year at the inaugural English Curry Awards and whose sleep-inducing 'Insomnia-No-More Curry' was formally recognised as a British icon by the Experimental Food Society, said: "The battle to consume a healthy, five-a-day diet without breaking the bank has never been harder, especially for parents.
"The cookie was developed to help children, teenagers and adults – including those who won't normally touch fruit and vegetables – to get their vital 'five-a-day' without even realising it."
According to existing studies, fewer than one in five Britons get the recommended five portions of fruit and vegetables a day.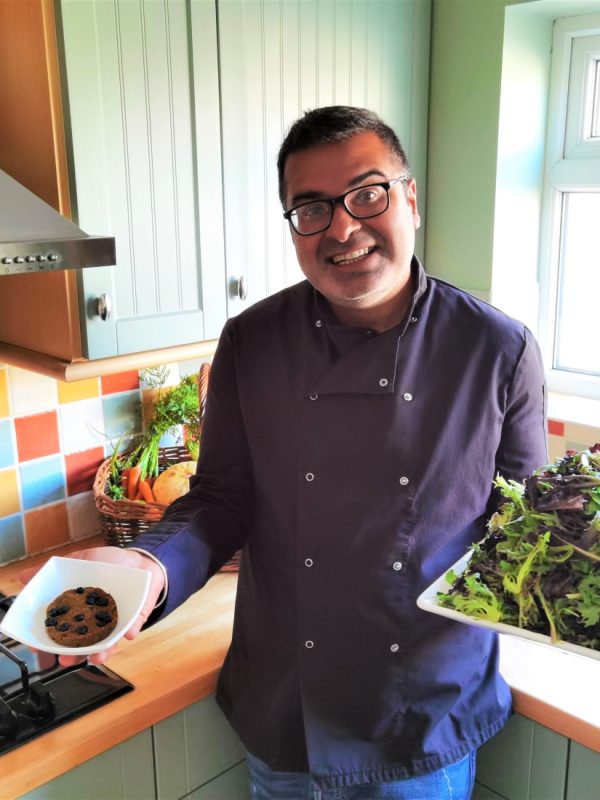 People who consistently meet the current recommendations are reportedly less likely to be diagnosed with heart disease, Type-2 diabetes and cancer.
Bains, a development chef of Punjabi heritage, has spent the last 20 years creating healthier versions of traditional fast food.
His cookbooks promote antioxidising and lab-inspired recipes that alleviate everyday ailments and include the 'world's healthiest meal' – a chicken curry with blueberries and goji berries that contains the antioxidant-equivalent of 23 bunches of grapes.
Earlier this year, he launched the Vedge range of snack bars that contain up to two of our five-a-day.
But Bains, 43, said he wanted to go "one better" by developing a super-snack for his family and friends with all five portions.
His vegan Chikitsa Crumble, a culinary first, takes its name from the Hindi for 'therapy' or 'treatment'.
They are made with four and a half 80g portions of vegetables and one 40g serving of fruit which, when oven dried and thoroughly dehydrated, result in a bitesize snack weighing only 84g.
Each cookie contains just 280 calories, is gluten-free, has no added sugar, and is suitable for those on a low-carb, high-fat Keto diet.
They also pack in 12g of fibre and 12g of protein.
Whilst the exact recipe remains a secret, each one is said to contain a blend of nuts and spices, courgette, pumpkin, carrot, blueberries, and goji berries.
Bains said the cookies proved so popular with his nieces and nephews in lockdown that he has begun making weekly batches of 100 for his extended friends and family.
He is also considering selling them more widely through his website.
"As a chef and nutritionist, I'm constantly reminded how difficult it is for people to make healthy food choices and to navigate their way through the minefield of diet advice and conflicting information," he added.
"The cookies cut through the noise by providing a minimum intake of fruit and vegetables in a handy snack. I'm over the moon that they've become so popular."
Our news story about the Chikitsa Crumble has gone down well with the national media, securing mouthwatering coverage in Metro and the Daily Star. 
Palamedes PR has a range of guaranteed consumer PR services to ensure clients secure the exposure they deserve. To find out more about how we can be of assistance, contact us today.