Bestselling author and award-winning celebrity chef Gurpareet Bains unveils his latest superfood creation
Celebrity chef and nutritionist Gurpareet Bains has launched the world's first snack bar that contains up to two of the recommended daily five
portions of fruit and vegetables.
Bains, a long-standing client of consumer PR agency Palamedes and whose fans include Gwyneth Paltrow, Goldie Hawn and Chris Evans, spent six years developing a new vegan range in partnership with Vedge Snacks to help Brits consume a healthy and balanced diet.
The Vedge snack bars are made with between 50 and 70 per cent vegetables and are lower in sugar and higher in fibre than anything else on the market.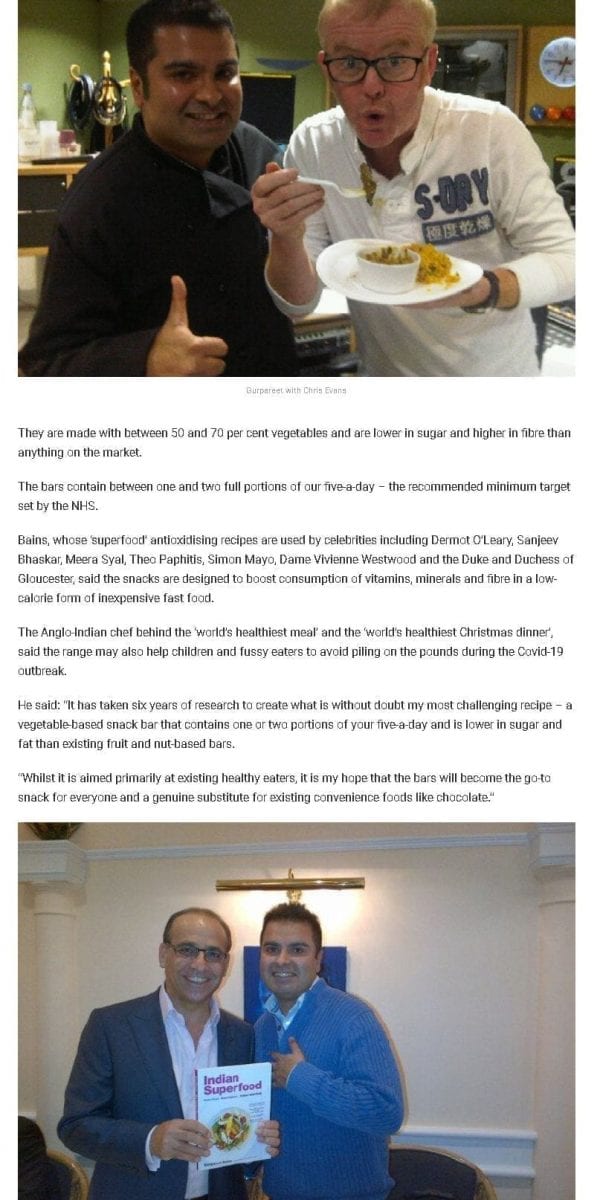 The bars – which come in Sea Salt & Black Pepper, Carrot & Cinnamon, and Lime & Chilli flavours – contain between one and two full portions of our five-a-day, the recommended minimum target set by the NHS.
Bains, whose 'superfood' antioxidising recipes are used by VIPs including Dermot O'Leary, Sanjeev Bhaskar, Meera Syal, Theo Paphitis, Simon Mayo, Dame Vivienne Westwood and the Duke and Duchess of Gloucester, says the snacks are designed to boost consumption of vitamins, minerals and fibre in a low-calorie form of inexpensive fast food.
The Anglo-Indian chef, who has previously hit the headlines with the creation of the 'world's healthiest meal' and the 'world's healthiest Christmas dinner', adds that the range may also help children and fussy eaters to avoid piling on the pounds during the coronavirus outbreak.
You can read the full story on Stories.SWNS. 
Palamedes PR offers a range of guaranteed consumer PR services for businesses. If you are seeking publicity for your service or product then contact us.