Consumer PR specialist Palamedes PR has secured further national exposure for endurance swimmer Ben Hooper.
The former policeman, who begins his attempt to become the first man ever to swim an ocean later this November, was featured in Metro regards comments by celebrated explorer Sir Ranulph Fiennes comparing his Swim the Big Blue expedition to the scaling of Everest in its historic importance.
For more information on news generation PR, contact us HERE.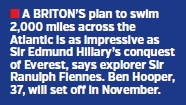 et