A new novel from publisher Constable & Robinson has been reviewed in one of the UK's most popular women's magazines.
The Paper Bark Tree Mystery by award-winning Singaporean author Ovidia Yu, a client of book PR agency Palamedes PR, is featured in this week's issue of Bella.
The title is the latest in Yu's critically-acclaimed series of historical Crown Colony whodunnits, following The Frangipani Tree Mystery and The Betel Nut Tree Mystery.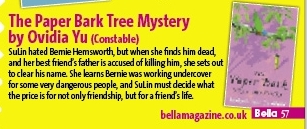 Book PR agency Palamedes PR secures guaranteed publicity for authors and publishers. Our FAQ page provides more details about what to expect from a PR campaign and you can contact our team here.