Book PR
Award-Winning Book Publicity with Guaranteed Exposure on TV, Radio and in the UK National Press
Book PR: Guaranteed Book Publicity
Welcome to the UK's trusted and most accomplished book PR agency – the book marketing agency of choice for discerning British and international authors, publishers and agents since 2009. While other UK literary PR agencies hide behind "no guarantees" policies, our literary PR team of award-winning former national news journalists, editors, book reviewers and authors guarantee the results of every book PR project we undertake. That's why Palamedes PR is widely considered the UK's market-leading book PR and book marketing agency and why we've been promoting books by British and overseas authors in the national press for almost a decade. Our literary PR team secures publicity for books – new and old – in the print, broadcast and online media every working day of the year.


Praise for Our Book PR Campaigns
"Palamedes PR is in our view and experience the clear market leader in book publicity. It produces outstanding results for fiction and non-fiction titles and audiobooks, and remains our book PR agency of choice. Extremely well recommended"
BBC Audiobooks (AudioGO)
"I can add no suggestions to how you could improve your service. Palamedes PR is the new benchmark in book PR"
Ewan Wilson, author & founder of Kiwi Airlines
"Palamedes PR is well recommended"
The Andrew Lownie Literary Agency, London, UK
"An internationally-acclaimed book PR agency and the UK market-leader in non-fiction. The agency boasts a well-earned reputation for orchestrating high-profile, award-winning PR campaigns and represents many of the biggest names in the industry"
Young Author Awards 2018
See more book publicity testimonials here.
Book PR: What We Promote
If you're a discerning author, publisher or agent looking for outstanding book marketing results, ongoing free advice and swift, quality publicity for your book, you've come to the right place. Our celebrated book PR campaigns obtain guaranteed book reviews and guaranteed publicity for books for any English-language title, whether new or old, in the national press and on radio and TV – usually within just 14 days. Our literary PR team orchestrates book PR campaigns for both fiction and non-fiction titles, including ebooks and audiobooks. We are widely known, in particular, for our book marketing campaigns for biographies, self-help, business titles, works of history and non-fiction books of a controversial nature.
Book PR: Where Our Work Appears
Whether it's live or pre-recorded TV and radio broadcast interviews for authors, televised product placements, national newspaper coverage, book reviews or book launch events (such as the World's Biggest Book Signing for author Neil Blower, pictured above with the cast of 'Allo 'Allo), our market-leading book PR and book marketing campaigns generate guaranteed publicity for books and for discerning British and overseas authors and reach tens of millions of consumers nationwide. According to our clients, in fact, we obtain substantially more publicity for books than any other book PR agency.
You can see the some of our more famous book PR and book marketing campaigns, here.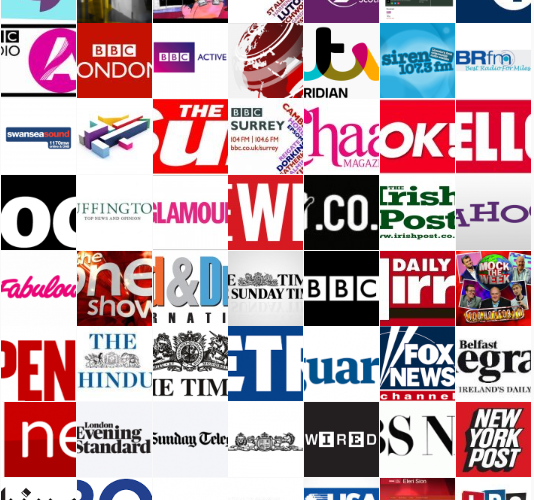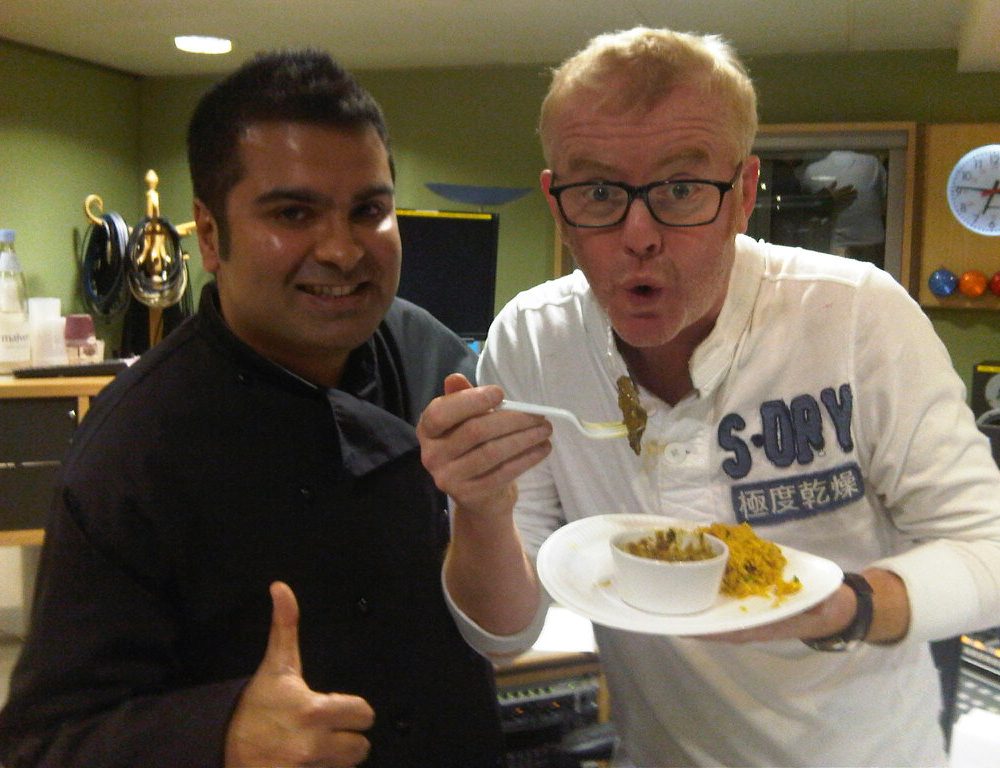 Book PR: Why Palamedes PR?
We're the only book PR agency that is run and staffed by former national news, features and broadcast journalists
We have a proven track record for running successful fiction and non-fiction book publicity campaigns in the national media and on TV and radio since 2009
We generate more book publicity per campaign than any other UK book publicist, according to our clients
We publish the results of our book publicity campaigns here virtually every day of the year
We're the go-to book publicity agency for some of the UK's largest publishing houses and the established market leader in our field
We're the only UK book publicist willing and able to guarantee its work in the national media and on radio (like our campaign for the celebrity chef and cookery book author Gurpareet Bains [Bloomsbury/Absolute Press], pictured left on BBC Radio 2 with Chris Evans)
We're not fluffy, won't dine out on your dollar, and won't attempt to wow you with nonsensical buzzwords and industry jargon
We deliver what we promise – often within as little as 14 days – or your money back
Do I need a book publicist?
Do I need book PR?
Amazon publishes a new book every five minutes. In this increasingly saturated market, getting today's savvy consumers to notice your book will be hard enough. Encouraging them to buy a copy is something else entirely. That's where a results-focused book PR and literary marketing agency comes in.
What publicity will I receive?
What publicity will I receive?
Every book is different, which is why we've developed a range of literary PR packages to give you the choice about what types of publicity you would like us to obtain. Our book PR packages include national press coverage – the 'holy grail' of book publicity that other literary PR agencies can neither achieve nor guarantee.
Our book PR packages offer:
– Radio & TV interviews for authors
– National publicity for books
– Book reviews for authors
– The freedom to pick and choose with our Custom book PR package
How quickly will I obtain media coverage?
How quickly will I obtain media coverage?
Our PR for books campaigns typically secure your media coverage within just 14 days.
Do you provide ongoing book PR support?
Do you provide ongoing book PR support?
Absolutely. If you need ongoing book publicity – perhaps to raise a publisher's profile or to publicise a range of books – simply let us know on the Contact form.
Can you offer me free advice?
Can you offer me free advice?
We offer free advice from the outset. Click 'Book PR' on our contact page and we'll call you back to discuss your options with absolutely no obligation. It's all part of the ongoing Palamedes PR service.
Book PR: Literary PR Packages for Discerning Authors
Our exclusive book PR packages are utilised by some of the world's largest publishers to generate credible and lasting publicity for books. Whether it's a short-term book PR project, a book launch event (like the 'World's Biggest Book Signing', above) or ongoing book marketing support for a range of titles, our London literary PR agency can help. Simply choose the author PR/literary PR package that's right for you and we'll respond on the same day. If you need help or can't find what you're looking for, please visit our FAQ page. Alternatively, you can speak to one of the author PR team for a free consultation. You can reach our author PR team to discuss our range of publicity for books services by contacting us.
Invaluable Nationwide Exposure

Reach out to all UK radio stations including BBC platforms with a guaranteed minimum of five on-air interviews | Free media training | Significant ROI | Ideal platform to reach and engage people nationwide | Optional TV appearances | Interviews within 14 days
Reach Millions

Distribution to all UK daily and Sunday newspapers with guaranteed news or feature-based coverage about you or your book in at least one national title | Reach a minimum of 30million UK readers | We create all content.
Mass Book Reviews on Quality Sites Nationwide

A guaranteed 150 book reviews on regional news platforms including flagship titles like The Yorkshire Post and The Scotsman | Live (hyperlink) to your website or to your Amazon page | Essential publicity for new and existing authors | We create all content | Publicity within 14 days or less
Websites, Social, Ongoing PR Support & Combos

Whether it's a new website and social media strategy, ongoing PR support with month-on-month results, or a combination of our other book PR packages, we can help. Simply let us know what you need and we'll be in touch within the same day to discuss your options
More Book Marketing Testimonials
"We appointed Palamedes PR on account of their position, experience and expertise in the book PR sector. We are very pleased we did given the international exposure they generated for our books, our authors, and our brand" – Forty-Six Books
"A book launch in the Houses of Parliament with Hazel Blears MP and the world's largest book signing. That's Palamedes PR – a book publicist that orchestrates incredible book marketing campaigns that never fail to capture attention" –  Neil Blower, author and PTSD campaigner
"Brilliant book PR – we were very pleased" – Routledge Books
"Consistently good coverage for [its bestselling author] Cathy Glass" – HarperCollins
"Having worked in the film industry for over 60 years, I would describe the book PR campaign they delivered as a definite first-class production" – Alvin Rakoff, Hollywood director
"It was important to me that I partner with the best book PR agency in the marketplace in order to give it the publicity I believe it deserves" – Oggy Boytchev, former BBC World Affairs Producer
We are extremely grateful to those authors, agents and publishing houses who have so kindly offered their testimonials about our work. You can view all our testimonials – about book marketing and our other areas of promotional expertise  – on our Testimonials page, here.